Bio
16,227
Karma
193
Comments
Female
Gender
35
Age
Music Student/ Graphic Design Double Major
Occupation
---
First off, take a look at my sentence palettes. The names of each palette make a sentence and tell a little about me!
Now it's your turn to make one!

I made this widget at MyFlashFetish.com.
If I were a color:
You surround yourself with art and music and are constantly driven to express yourself. You often daydream. You prefer honesty in your relationships and believe strongly in your personal morals.
Find out your color at QuizMeme.com!

Pooh is my friend: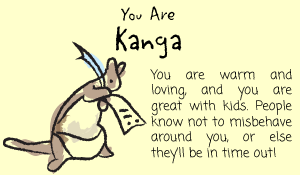 Take the 100 Acre Personality Quiz!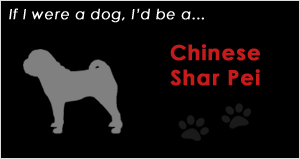 discover your dog breed @ quiz meme


discover what candy you are @ quiz me


find your inner PIE @ quizmeme.com
CENTER>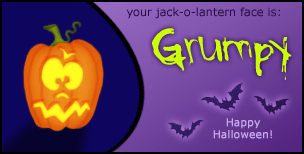 discover your jack-o-lantern face @ quiz me
I'm in college studying my primary interest, which is music education, but I'm also studying graphic design.
I've had a few of my graphic design works, traditional art, and photography displayed at local art shows, but I don't really consider myself all that good at art. It's just something I like to do, and that includes designing my own clothes, jewelry, and accessories, which I also sell.
I'm obsessed with anything to do with music, and I sing and play violin.
More Random Facts:
I Love Animals
I Don't Really Have Pink Hair, though I've wanted it before.
I like reading ghost stories. They're just such a rush. Hehe.
I like colors, and lots of 'em.
I like to play the piano, though I'm WAY better at singing and playing violin.
I like Marilyn Monroe, Audrey Hepburn, Elvis, James Dean, Gretta Garbo, Louise Brooks, Clara Bow, and the wonderful Mr. Rudolph Valentino.
I enjoy making random digital art in Photoshop, and taking rather random photos with my massive Manual SLR or my teensy little digital cameras.
I immerse myself in a good book maybe way too often, and I love God. I hate to miss a good ghost show, even if it does mean I have to get my nose out of a book. I'm obsessed with retro and vintage, anything pop-art and psychodelic funky is something I'm all into. Who doesn't love it? I like to hang out on deviantart sometimes, checking out others' art, and sharing my own. What a way to get inspired, right?
I've been called loveable, funny, unique, random, and even "weird" but I like to think that that could be a compliment. Who wants to blend in, anyway? Why not stand out from the crowd. I think naps are good, as well as singing as loud as you can (but only if you can sing pretty well), because singing can make you feel good!
As for books, I enjoy anything by Nicholas Sparks.
As for movies, I like Walk The Line, The Notebook, and Phantom of The Opera.
TV Shows: House, Ghost Hunters, Paranormal State, and anything that will hold my interest longer than a good website, a nap, or a book.
I believe in God, and I believe that he has created all the colors in nature that inspire us!
And, so, those are the basics, well, all that I guess you'd be interested in, at least.
Be sure to check out all my colors, palettes, and patterns!
Feel free to use my patterns, colors and palettes! After all, that's what they're there for. All I ask is that you credit me, and that you give me a link, if possible, so that I can see my colors and patterns in action!
Roaring Cat In A Boot
Add to My Profile
|
More Videos
Gifts for Me!
Here are some gifts that people have made for me. :D
Thanks to everyone who has made me gift patterns!
Check out this site! For every word that you get right, 20 grains of rice is donated. http://www.freerice.com/index.php
Activity Feed