Bio
49,592
Karma
1,230
Comments
Female
Gender
THANKS FOR ALL OF THE LOVE!!:):)
Location
---
Please know I appreciate each love, fave, follow and use of my pattern templates and palettes. Keep making the world beautiful with your works of art!!
.....................................................................................................................
A Little Bit About Me:
I'm a very abstract artist and create in the moment. I love watching each piece unfold into something unexpected and seeing all of the talented individuals on ColourLovers make them beautiful with their flair for color!:):)
I have a passion for art and enjoy drawing, painting & making jewelry. Also, I enjoy music, singing and writing poetry. ColourLovers has been a great place to get my creative juices flowing. I'm absolutely loving ColourLovers and all of the amazingly talented individuals that share their wonderful works of art.
THANK YOU TO ALL WHO FOLLOW ME & USE MY PATTERN TEMPLATES & PALETTES!!! I apologize but I'm unable to keep up on sending my gratitude for your loves, but please know that I really, really appreciate all of your loves, faves & follows:):):) When I'm able, I prefer to show my gratitude by taking the time to explore, love and fave the works of art of other CL's that love & fave my work:):)
You are all so talented and I enjoy all of the inspiration I get from your works of art!
~HappyPattern11
Your rainbow is intensely shaded
yellow, violet, and green.
What is says about you: You are a creative person. You feel strong ties to nature and your mood changes with its cycles. Those around you admire your fresh outlook and vitality. You're good at getting people to like you.
Find the colors of your rainbow at spacefem.com.
YOU ARE TURQUOISE
#40E0D0

Your dominant hues are green and blue. You're smart and you know it, and want to use your power to help people and relate to others. Even though you tend to battle with yourself, you solve other people's conflicts well.

Your saturation level is higher than average - You know what you want, but sometimes know not to tell everyone. You value accomplishments and know you can get the job done, so don't be afraid to run out and make things happen.

Your outlook on life is bright. You see good things in situations where others may not be able to, and it frustrates you to see them get down on everything.

the spacefem.com html color quiz
target="_blank">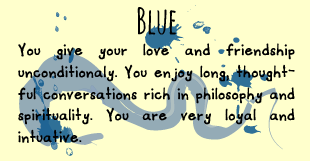 What color are you?
You were born during a Waxing Crescent moon
This phase occurs right after the New Moon, when we can start to see part of the moon that's illuminated by the sun.
- what it says about you -
You like having a clear vision of the future, and are good at helping people set out plans to accomplish important goals. Once you're done with a task, you're done with it. You don't like revisiting or rehashing issues you think are settled. You're inventive and encourage people around you to be new and different instead of copying from the past.
What phase was the moon at on your birthday? Find out at Spacefem.com
Activity Feed