About This Palette
507 COLOURlovers viewed this page and think Trixxie is The One.
Rank
Description
Happy Toes!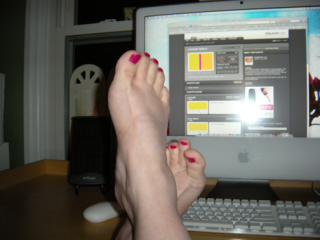 I have made this palette to commemorate my first ever pedicure. I had it on July 3rd and it was a "Lemon Pedicure" special that they were having that day. Not only did my toes and feet get a treat, but I also got a lovely glass of Limoncello on ice with a slice of fresh lemon.
I chose a gorgeous Flashbulb Fuschia as the color for my toe nails. My feet look damn sweet!
Colors
Share This Palette
Share on
Grab this Badge Code
Get this Palette Image
Favorited By
Tags
No tags, add some!
Palette License
Credit must be given to Trixxie.

Commercial use is not allowed.

Derivative works are allowed, but must be shared with this license.
CC-BY-NC-SA
Download Options
Latest Palettes
//
View More ›
Latest Patterns
//
View More ›
Latest Colors
//
View More ›