About This Palette
36 COLOURlovers viewed this page and think novrain62 takes more than the cake.
Rank
Description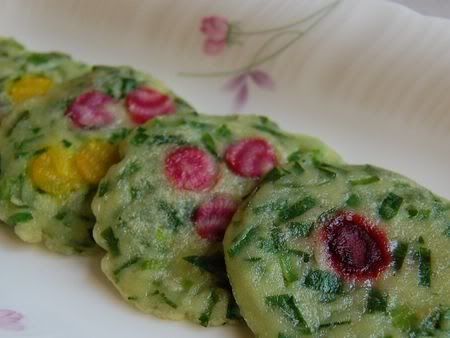 BUCHUJEON
(Garlic Chive Pancakes)
To make chive pancakes for 3-4 people)
Optional Beet Garnish) Wash assorted beets (one of each kind is enough for this recipe) thoroughly in cold water. Peel the beets and slice them thinly. Using a small round cutter, cut out the shape. Keep the beet slices in cold water.
Combine 1 C water, 1 C sweet rice flour (mochiko or chapssal garu), 1/2 ts salt and a pinch of fresh ground pepper. Beat 1 egg and add to the batter.
Slice garlic chives finely to get about 1 C. Mix well into the batter.
On a well-heated pan, drizzle 2 TBSP of sesame oil (use more oil as necessary). Turn down the heat to low. Drop a spoonful of the batter and shape it into a flat round. Place a few more pancakes without crowding the pan.
If you are using beets for garnish, quickly place a couple of beet slices on the chive pancakes before the upside starts cooking.
When the pancakes are almost cooked, i.e., edges turn crispy and pancakes have mostly turned from opaque to translucent, flip to the other side and cook for another minute. Transfer the pancakes to a plate with the beets side up.
Serve with a dipping sauce, soy sauce with a splash of fresh-squeezed lemon juice. It's so simple, but it adds a refreshing tone to fragrant chive pancakes. Toasted sesame seeds and a dash of chili powder (고추가루; gochu garu) optional.
Recipe here:
http://nanoomi.net/archives/7313
KOREAN WORDS
garnish 고명 (gomyeong)
batter/dough 반죽 (banjuk)
** As my son is preparing to be stationed @ Osan Air Base in ROK
(Republic of Korea) - I am looking up recipes that he may enjoy and
sharing them with you. (Leaving this Sunday) - Oh My!! I'm nervous.
Friday - 20 April 2012 - Day 111
Colors
Share This Palette
Share on
Grab this Badge Code
Get this Palette Image
Favorited By
Tags
Palette License
Credit must be given to novrain62.

Commercial use is not allowed.

Derivative works are allowed, but must be shared with this license.
CC-BY-NC-SA
Download Options
Latest Palettes
//
View More ›
Latest Patterns
//
View More ›
Latest Colors
//
View More ›