About This Palette
25 COLOURlovers viewed this page and think novrain62 has the highest color IQ.
Rank
Description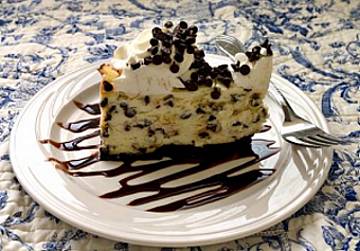 Irish Cream Cheesecake
Servings: 12-16
Ingredients:
For the Crust:
2 cups graham cracker crumbs (plain or chocolate)
6 tbsp.(3/4 stick/3 oz./85g) butter, melted
For the Filling:
2 1/4 pounds (approximately 1 kilo) cream cheese, at room temperature
1 2/3 cups granulated sugar
5 eggs
1/3 to 1/2 cup (depending on your taste) Irish Cream Liqueur (Baileys Irish Cream is a good brand)
1 tablespoon vanilla extract
1 cup miniature semisweet chocolate chips
1 teaspoon all-purpose flour
For the Topping:
1 cup heavy cream
2 tablespoons granulated sugar
1 teaspoon coffee extract (optional)
Garnish: (optional)
Store-bought chocolate syrup
Instructions:
For the Crust:
Preheat oven to 325 degrees F/160 degrees C. Lightly grease a 10-inch (25cm) springform pan with butter.
Combine crumbs and melted butter in a bowl, then press into bottom and 1 inch up the sides of pan. Bake until light brown, about 7 minutes. Leave oven on.
For the Filling:
Using an electric mixer or food processor fitted with a metal blade, beat cream cheese until smooth. Gradually incorporate sugar. Beat in eggs 1 at a time. Blend in Irish Cream Liqueur and vanilla. Stir together 1/2 cup chocolate chips and 1 teaspoon flour in small bowl; gently stir into cream cheese mixture. Pour batter into crust. Set aside the remaining chocolate chips for later.
Place cheesecake in preheated oven and bake until puffed, center springs back, and golden brown, about 1 hour and 20 minutes. Cool cheesecake completely, then release sides of springform pan.
For the Topping:
When cheesecake is completely cool, whip the heavy cream and sugar together with an electric mixer. Add coffee extract (if using), and whip until firm peaks form. With pastry bag and decorative tip, pipe whipped cream around edges of cheesecake. Decorate top with the remaining chocolate chips. When ready to serve, if desired, drizzle a small amount of chocolate syrup on each plate, then place the slice of cheesecake over the sauce.
Store any remaining cheesecake in the refrigerator.
Makes 12-16 servings.
Recipe here:
http://www.dianasdesserts.com/news/news2006-03.html
St Patrick's Day
17 March 2012 - Saturday
Day 78
Colors
Share This Palette
Share on
Grab this Badge Code
Get this Palette Image
Favorited By
Tags
Palette License
Credit must be given to novrain62.

Commercial use is not allowed.

Derivative works are allowed, but must be shared with this license.
CC-BY-NC-SA
Download Options
Latest Palettes
//
View More ›
Latest Patterns
//
View More ›
Latest Colors
//
View More ›