Bio
69,758
Karma
5,271
Comments
Female
Gender
61
Age
In the library, chillin' in the art stacks
Location
retired Art Director
Occupation
---

Hi, and welcome to my little corner of COLOURlovers. Feel free to call me Piahr, Pia, or just plain P. I'm so happy to be here – this place is Inspiration Central! I can generally be found hanging around, spending some quality window shopping time browsing (and loving) your amazing palettes and patterns, playing some of those fun Forum games, or enjoying some relaxing art play time making a few colorful goodies of my own.

Please know that I cherish every single love, fave, comment, and follow that you give me. (My CL emails are always read before any others.) I've met loads of kindred spirits here; this wonderful community is the absolute best ever. Color the Galaxy! ♥♥♥ Pia
April 27 〜 My goodness! I missed posting this fabulous Mutt's Earth Day cartoon in time for Earth Day, but I'm sharing it anyway, because it's one of my favorites. I haven't had as much time as I would like to play with colors and patterns lately; that's life, I guess… If it's not something, it's something else, as Roseanne Roseannadanna used to say. I hope everyone's having a great spring (or autumn, in the case of all you southerns). Color the universe!

looking • learning • art • color • design
the scent of peonies • maple nut ice cream • laughter
the midnight sky, full of stars • calligraphy • memorable quotes
a pile of reading material and a free afternoon • fireflies
quilt patterns • Mutts by Patrick McDonnell • haiku
summer evening breezes • mersey beat music from the 1960s
deep-fried cheese curds • autumn • sending letters through the mail
freshly washed blue jeans • witty conversation • walking in the fog
a good mystery • art fairs, galleries and exhibits • a frosty chilled mug of beer
song lyrics • The Polar Express • soft, touchable velvets and silks
fancy needlework • a fire in the fireplace and snowflakes falling outside
road trips • people who are kind to critters • door bells • sleigh bells
and (of course) wild geese that fly with the moon on their wings

…and presents! Lovely, wonderful presents! Thank you for making my day : D

"A hush is over everything, Silent as women wait for love; The world is waiting for the spring."
〜 Sara Teasdale
"I am going to try to pay attention to the spring. I am going to look around at all
the flowers, and look up at the hectic trees. I am going to close my eyes and listen."
〜 Anne Lamott
"The beautiful spring came; and when Nature resumes her loveliness,
the human soul is apt to revive also.'"
〜 Harriet Ann Jacobs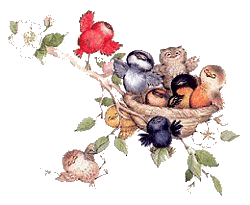 Little Birdies from Picgifs
Profile Photo: Meet da Vinci; he works at the library here. Don't be shy – shake his paw. Like most terriers, he's quite intelligent, and more than a little bit stubborn. He's very good at sniffing out the best art books and he'll fetch coffee too, if he likes you. Don't let his reading glasses and teddy bear demeanor fool you into thinking he's a pushover, though. He can be ferocious if he catches anyone disrespecting his books. (In case you were wondering, yes, da Vinci is part of my rich and satisfying fantasy life.)



Activity Feed